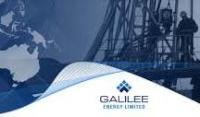 Galilee Energy Limited provides an update on its operations, and in particular to confirm that a decision has been made to run production casing and complete the Hoffer B 1 well ahead of production testing and potentially commercial production.
Hoffer B 1 Well (Galilee 35% WI, reducing to 28% after payout), Lavaca County Texas.
On 23 February 2015, Galilee announced that intermediate open hole logs on the Hoffer B 1 well confirmed the well has intersected a potentially significant net gas pay in the Middle Midcox sandstones, a secondary target in the well.
A total net pay of 43 ft was identified in a number of sandstone units, with two additional shows of significance unable to be logged due to the tool sticking during logging operations. Following successful setting of a production liner at 12,700 ft, the well was drilled to a total depth of 14,150 ft. Drilling of the deeper section required careful management to maintain hole stability as a result of both significant gas influx and extremely high pressures.