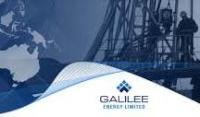 Galilee Energy Limited says that intermediate open hole logs on the Hoffer B1 well in Lavaca County, Texas, have confirmed the well has intersected a potentially significant net gas pay in the Middle Midcox sandstones, a secondary target in the well.
A total net pay of 43 ft was identified in a number of sandstone units. Subject to successful flow testing, this pay alone is expected to be sufficient to achieve a commercial success from the well at current commodity pricing, and materially enhances the prospectivity of Galilee's other prospects in the area.
The logs also confirmed a potential 40 ft pay zone in the shallower Yegua Formation. This zone was logged through casing and further evaluation will be necessary to determine the commercial potential of this zone in the coming months.
Mud logging while drilling identified two additional shows of significance in the Lower Wilcox below 11,600 ft, which have the potential to add to the interpreted net pay. Unfortunately, logging tools were unable to be run over these zones due to the tool sticking during logging operations.