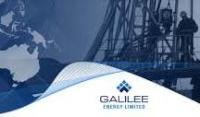 Galilee Energy Limited is pleased to provide an update on testing at the Hoffer B1 well located in Lavaca County, Texas.
Testing on this well is progressing. In aggregate, the zones tested in the Midcox units flowed approximately 6 million standard cubic feet of gas per day, with demonstrated liquids content ranging as high as 50 barrels of condensate per million cubic feet of gas produced.
As announced on 15 June 2015, the first of these zones in the Middle Midcox was perforated and production tested at an average flow rate of 3.5 MMscfd of gas at just over 3500 psi flowing tubing pressure on a 17/64' choke. The well also flowed an undetermined amount of associated hydrocarbon liquids, thought to be in the range of 25-50 bbls/MMscf. The testing of this zone was suspended due to a suspected partial failure of the cement job across the interval. Subsequently, a remedial cement job to restore the integrity of the Middle Midcox level was carried out. It appears the remedial cement job was only partially successful in restoring the wellbore integrity in the upper zone, and almost certainly damaged the reservoir in these zones reducing its productivity.