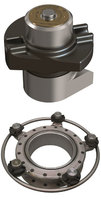 Gall Thomson, global provider of marine couplings, has introduced a new range of next generation locking cams for its Camlock Couplings.
The Camlock-R™ is a fully sealed ratchet mechanism that locks as it's tightened and which can only be released using its built-in central push button. The Camlock-R™ is up to 50 times faster than a traditional flanged connection. The connection time for a three-cam coupling can be as little as 20 seconds.
The patent pending design of the new Camlock-R™ features two rings of teeth in a 360 degree engaged ratchet ensuring that the ratchet mechanism is engaged at all times. This eliminates any concern over the effect of vibration on the cams. The ratchet mechanism is also fully sealed, safeguarding against the ingress of seawater, dirt and dust so ensuring minimum downtime. The Camlock-R™ can only be disengaged by depressing the push button release then rotating the cam by hand.
The Camlock-R™ is precision engineered to the same high standards of all Gall Thomson equipment and has been field tested and proven over the last 18 months. The Camlock-R™ is an important advancement for the Gall Thomson Camlock range, which is very versatile and effective for all types of applications including low temperature and submersible application, amongst others, utilising manual and hydraulic operation. They are used every day in marine loading and discharge terminals, ports, refineries, dock facilities, chemical plants and distribution centres worldwide.