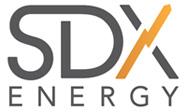 SDX Energy Inc., the North Africa focused oil and gas company, has announced that a gas discovery has been made at its KSR-15 development well on the Sebou permit in Morocco (SDX 75% Working Interest).
The KSR-15 well was drilled to a total depth of 1,774 meters and encountered 17.2 meters of net conventional natural gas reservoir section across 4 intervals. The primary target, the Hoot sand, had an average porosity of 29%. This is the highest average porosity recorded for the Hoot sand in the basin. The quality of the Hoot exceeded our pre-drill estimates and, once the drilling rig has left the location, the Company expects that the well will be connected to the existing infrastructure and on production in early December.
The previously drilled KSR-14 well has been connected to the existing infrastructure and it is anticipated that testing will commence this week. Those test results will be reported in a separate release when available.
Paul Welch, President and CEO of SDX, comments, "We are pleased to be announcing another successful result from our Moroccan drilling campaign as we continue to build real momentum with this programme. It is also very encouraging to have connected the first well and I look forward to reporting on the test results in due course. These first two successful wells keep moving us closer to achieving our target of increasing local gas sales volumes in Morocco by up to 50% in 2018."