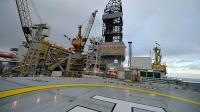 Two years after Valemon came on stream Statoil reports making a new gas discovery on the field, called Valemon West. The discovery is estimated to contain between 20 and 50 million barrels of oil equivalent.
"This is an important discovery for the further development of Valemon," says Gunnar Nakken, Statoil's senior vice president for the operations west cluster, which covers the company's Bergen-operated fields.
"These new reserves can be put on stream immediately and will add considerable value. The discovery proves that there are still good opportunities in the North Sea, an area we know well, and its infrastructure is extensive," says Nakken.
"We are very pleased to announce our second discovery in 2017. Discoveries like this one and Cape Vulture are valuable contributions to existing fields," says Jez Averty, Statoil's head of exploration in Norway and the UK.
The well was drilled 160 kilometres north-west of Bergen. This is the seventh exploration well that is being drilled in production licence 193 D, Valemon Unit.
The exploration well was drilled from Valemon by the jackup rig West Elara to a vertical depth of 4,337 metres below sea level. Water depth in the area is 133.5 metres. The well is currently being completed and put on stream from the Valemon platform.
The Valemon reservoir is complex because it is fragmented and also because of its high pressure and high temperature.
The Valemon Unit partners are Statoil Petroleum AS (operator, 53.775%), Petoro AS (30%), Centrica Resources (Norge) AS (13%) and A/S Norske Shell (3.225%).