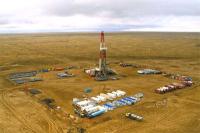 Tethys Petroleum Limited says that the new phase of gas production is on stream and is producing at more than double previous production.
Kazakhstan Shallow Gas Programme Update - Gas Production Doubles
Following the recent announcement of a new Gas Sales Contract, the next phase of shallow gas production is now on stream and production has more than doubled. This new production was achieved on schedule and has now been producing since the beginning of the year as levels have increased to the current daily production rate.
• Gas production more than doubles • 10-day average of 559 Mm3/d (19.7 Mscft/d) • Planned further increase in production in Q2