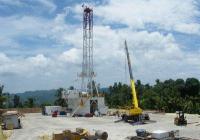 Gas2Grid Limited advise that following implementation of the initial remediation procedures to free the blocked perforations within the Malolos-1 wellbore there was an immediate improved influx rate with 8 barrels of fluid produced within a 1 hour period. That indicated that the perforations had been successfully cleaned by the procedures.
Significant amounts of fine sand and clay were also produced with the oil. After a period, the sediment had again partially plugged the perforations while clean oil continues to be produced but at a lower influx rate.
The short term high influx rate indicates that the oil sands are capable of producing about 200 bopd as long as the perforations are not partially blocked. This production rate is in line with that observed during the 2013 testing and at the higher end of our pre-test expectations.