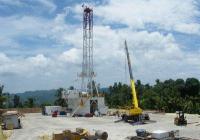 Gas2Grid Limited says that its application to the Philippine Department of Energy for a two year technical moratorium of Service Contract 44 (SC 44) to establish the best completion technology and fully appraise the Malolos Oil Field has been approved by letter received this afternoon.
The technical moratorium which runs from Jan. 28, 2015 to Jan. 28, 2017 gives the Company ample time to determine the development of the Malolos Oil Field with the aim to eventually be granted a 25 year production license.
Significant oil production rates at equivalent of 200 barrels per day were achieved in the Malolos-1 well during short periods of production tests in the first half of this calendar year; but the flow was inhibited by sand blocking the perforations downhole.
This production engineering issue, which is quite common, can be overcome by applying different well completion methods. The Company has already identified the various procedures available in the oil industry and will now commence preparation for implementation.