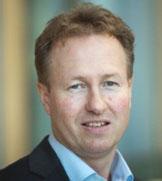 The board of Gassco has appointed Frode Leversund to serve as the company's president and CEO with effect from 1 October 2015 at the latest.
Leversund (51), who has held a number of management positions with gas processing and transport in Statoil, will replace Brian Bjordal on the latter's retirement.
He joined Statoil in 1992 and rose through the ranks from production engineer to head of production at Kårstø, and has also held a number of management posts related to the operation of gas plants and refineries and in midstream and downstream technology areas in Statoil.Leversund is currently a vice president, and heads a project on simplification and efficiency of technical resources in the Statoil technical efficiency programme (Step). With an MSc in engineering from the Norwegian University of Science and Technology, he is a resident of Tysvær local authority north of Stavanger.
"Leversund has a background which will be highly relevant for us in the time to come," says Gassco chair Ottar Rekdal. "Our job is to ensure safe, reliable and cost-effective gas transport, and he has substantial expertise in these areas.