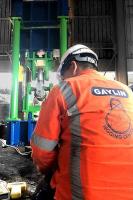 Gaylin, a specialist supplier of lifting, rigging and marine equipment, has recently built and installed a custom 600-tonne calibration machine at its Singapore headquarters that calibrates tension and compression load cells to its full capacity.
Integral to the Gaylin Group of companies' (of which Rigmarine is part) below-the-hook offering to offshore oil and gas, renewables, construction, break bulk, shipping and maritime industries, is a full range of force measurement, load monitoring and suspended weighing load cell equipment sourced from UK manufacturer Straightpoint.
In addition to Singapore, Gaylin has facilities in Korea, Malaysia, Vietnam, China and Indonesia. Rigmarine hubs, meanwhile, can be found at its most recently opened site in Aberdeen, in addition to Azerbaijan, Kazakhstan and the Middle East. Most of these sites have calibration machines ranging between 50 t and 300 t, depending on the location.
In simple terms, calibration matches the readings of a load monitoring device, or other machine, with those of a standard to determine accuracy. There are a variety of purposes and requirements for calibration of load cells beyond standard process upon completion of manufacture. Companies may choose to calibrate as they receive stock, while some countries or regions insist that calibration takes place as they arrive in certain geographies or onsite. Load cells are also calibrated as they return from projects or during service procedures.
Mike Duncan, managing director at Gaylin, says, "Rentals are a key focus for Gaylin [and Rigmarine] with over 150 tension load cell units alone available for hire across the group, with capacities of up to 1,000t. We also have a project currently in the engineering phase that may see us increase this to 1,500 t. While the technology is impressive in its own right, it's the after-sale service and support, including local calibration, we can provide in partnership with Straightpoint that separates us [from competition]."
A number of recent projects prove the point. Notably, Rigmarine recently delivered eight 52-mm Running Line Dynamometers from Straightpoint, which measure tension on mooring lines, for a long-term rental on an offshore construction vessel. Given the short lead-time, it had to rely on 24-hour operation at Straightpoint in the UK, combined with airfreighting of equipment and onsite calibration to fulfil the commitment. Meanwhile, after an 18-month project in the Caspian, Rigmarine's 1,800-t, six-point centre of gravity weighing system (also from Straightpoint) has returned to the Middle East, where it will be held until its next assignment.
Duncan says, "It seems like 500-t load cells are another order of the day with simultaneous rentals in Aberdeen, Dubai and South Korea all forming part of load test or heavy lift configurations. The overall success rate in Korea has encouraged us to build another high capacity calibration frame to serve the region, which will probably be 500t capacity and similar to the new Singapore unit."
He says, "Day to day sales of standard products are picking up as our brand is being further exposed and we continue to deliver good results. After a solid 2016 in the Middle East market, where we picked up several high value contracts in the offshore and construction sectors, we have increased our stock holdings of on-the-shelf, new products and are now by far the largest stockist of load monitoring equipment in the region."