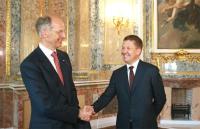 The town of Lomonosov (Leningrad Region) hosted a ceremony dedicated to the 25th anniversary of the cooperation between Gazprom and BASF/Wintershall.
"25 years is a relatively short period of time. But together with our German partners we've managed to achieve quite a lot during these 25 years. We began with simple cooperation in the area of gas supplies and today we work together across the entire value chain in the gas industry – from upstream to downstream. Together we've delivered large-scale projects, which boosted the European gas market development and helped to create a gas transmission network not only in Germany, but in other European countries as well.
Our cooperation with BASF/Wintershall may serve as an example of trust between the companies, example of strategic vision of the business development and a striking illustration of significant contribution to the EU energy security. With our German partners we have great plans and new ambitious projects lying ahead. I am absolutely sure we'll be able to successfully accomplish them," said Alexey Miller, Chairman of the Gazprom Management Committee.