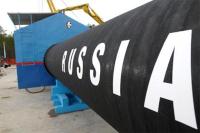 The Gazprom Board of Directors approved the adjusted Investment Program, Budget (Financial Plan) and Cost Optimization (Reduction) Program for 2015.
According to the adjusted Investment Program for 2015, the total amount of investments will account for RUB 1 trillion 043.04 billion, showing a RUB 238.69 billion increase versus the Investment Program approved in December 2014. At the same time, the amount of long-term financial contributions will make up RUB 363.21 billion, with RUB 0.055 billion intended for acquisition of non-current assets.
Pursuant to the adjusted Budget for 2015, the external financial borrowings will stand at RUB 227.49 billion. The approved financial plan will secure a full coverage of Gazprom's liabilities.
The adjusted Cost Optimization (reduction) Program for 2015 provides for the measures aimed at cost optimization (reduction) with the expected cumulative effect of RUB 17.39 billion.
The Investment Program for 2015 was adjusted mostly owing to the increase in long-term financial contributions.