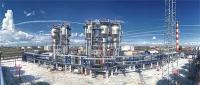 The Moscow Oil Refinery received a positive opinion from Glavgosekspertiza on the project documentation for the new industrial complex - the Integrated Refinery Unit (IRU).
IRU is designed for the primary processing of crude oil, the production of high-octane petrol and diesel fuel of Euro-5 as well as vacuum gas oil. The new unit will meet the latest environmental requirements and replace the old outdated equipment.
The structure of the combined unit will consist of five blocks of the main equipment of the primary oil refining unit CDU-AVT 6, a unit of petrol reforming, a diesel hydrotreating unit to unit isodewaxing, a gas fractionation unit and an amine regeneration unit. The annual capacity of primary oil refining unit will be 6 million tons. The performance of the petrol reforming and diesel hydrotreater units will be 1 and 2 million tons, respectively.
As a result of IRU entering into operation the annual volume of oil refining at the Moscow Oil Refinery will increase to 12 million tons, which corresponds to the installed capacity of the plant. The construction of the new complex will improve the energy efficiency of the plant, increase the turnaround of equipment from two to four years and optimize the production area of MOR by decommissioning of a number of operating units of the previous generation. It will also provide significant environmental benefits: as a result the total amount of the impact of the enterprise on the atmosphere will be reduced by 11.1%. Building the unit should begin in late 2015 and completed in Q3 2018.