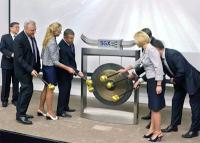 Today Gazprom's unrestricted American Depositary Shares (the Global Depositary Receipts or the GDRs) were granted an introductory listing and included in the quotation list of the Singapore Exchange.
The listing of Gazprom's GDRs on the Singapore Exchange is a significant result of the Company's efforts to broaden its investor base globally. Investors from the Asia-Pacific region are getting access to Gazprom's remarkable long-term growth. Gazprom is committed to creating long-term value for all its shareholders, and the Singapore listing will positively support the liquidity of Gazprom's shares.
This step aims to bring Gazprom to the ultimate goal of 24-hour trading of the Company's securities on international platforms.