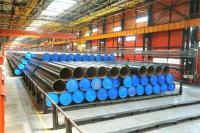 The Gazprom Board of Directors took notice of the information about Gazprom Group's procurement activity in the new business environment as well as about the import restricting measures.
Gazprom has been facilitating the domestic industry development for a long time by giving priority to domestic goods. The import substitution activity is still in progress.
A new form of cooperation with Russian manufacturers launched this year is a crucial step in this direction. It stipulates signing of new contracts to initiate full-scale production, supply of import substitution products to be purchased in agreed amounts for years ahead and at the prices not exceeding the cost of their foreign counterparts as well as an extended maintenance coverage.
Under long-term contracts the suppliers will sell goods in clearly defined amounts and Gazprom will obtain high-quality products at competitive prices. By now, such scheme is introduced for Pipe Metallurgical Company and Tomsk Machine-Building Technologies, the work is underway on enlarging the list of potential partners.