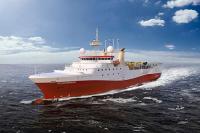 GC Rieber Shipping ASA has signed an agreement with Rasmussengruppen AS to establish a new, jointly owned marine geophysical company called Shearwater GeoServices AS.
Shearwater GeoServices will become an integrated provider of marine geophysical services to oil and gas and multi-client companies worldwide. Starting out with a fleet of four modern, high capacity seismic vessels, Shearwater's core strategy will be to provide high quality marine geophysical services and utilise the company's position as the most cost-efficient company in the industry.
"Over a period of time, we have examined opportunities to establish a new geophysical company, based on the four high-end vessels we currently own. In Rasmussengruppen, we have found a partner who shares our view of the opportunities offered by the geophysical market at present, and, equally important, who shares our vision to build and develop Shearwater into a leading player in the industry," says Irene Waage Basili, CEO of GC Rieber Shipping.
Rasmussengruppen has extensive experience from investing in maritime industries and oil services over several decades. Dag Rasmussen, Group CEO, sees interesting opportunities for the new company:
"Shearwater is set up from the start with a modern and cost-efficient fleet, an experienced organisation, and a solid financial platform. Supported by GC Rieber's extensive industry experience, we believe Shearwater will have a unique position in the market that can also consider further strategic opportunities," comments Dag Rasmussen.
GC Rieber Shipping and Rasmussengruppen will own the company 50/50. Shearwater will take over the four high-capacity seismic vessels; Polar Empress, Polar Duke, Polar Duchess, and Polar Marquis and the partners will also inject USD 60 million in equity in the form of cash. Terms have been renegotiated with the lending banks for the four vessels. The new terms include a 75% reduction in instalments compared to the original repayment profile until June 2019 and an extension of the term of the loans until year end 2022. Shearwater has also agreed on the main terms to purchase the seismic equipment (including streamers) and the operative entity, Dolphin Geophysical UK Ltd., which includes the processing business from the former lending banks of Dolphin Geophysical ASA.
Shearwater will receive technical and crewing support from GC Rieber Shipping with regards to marine operations. Shearwater's own organisation is being established, in part on former Dolphin Geophysical staff and in part on new hires, and will be capable of offering customers with fully integrated geophysical services and operations from the start.
Shearwater's strong asset base and competent core organisation constitute an attractive platform for further growth. With a conservative capital structure, a cost-efficient fleet and the strategic ownership of Rasmussengruppen and GC Rieber Shipping, Shearwater is in a position to develop further and attract new competencies as the company grows and capacity is re-activated.
The agreement between GC Rieber Shipping and Rasmussengruppen is conditional upon final loan documentation with the lending banks in line with agreed term sheets, as well as entering into final sales and purchase agreements for the seismic equipment. Closing of the transaction is expected to be in place during fourth quarter of 2016.
"Together with Rasmussengruppen, we are excited about the establishment of Shearwater which we believe is uniquely rigged to take advantage of the opportunities which we see in this space going forward. This is will be the first step on an exciting journey for our motivated employees, as well as for us as owners," says Irene Waage Basili.