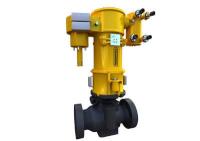 GE has signed an agreement to acquire the Subsea Electric Actuator product line of Oceaneering.
The product line goes to market under the Oceaneering Subsea All Electric and Ifokus brand, which specializes in the design and manufacturing of specialty subsea products, with a focus on electric valve actuators. The closing of the deal—subject to the standard regulatory approvals—is expected to be completed in the first quarter of 2015.
"We are extremely pleased to sign our agreement with GE, which has the global resources, subsea controls technology and systems integration expertise required to bring Ifokus technology to full-scale commercial production to meet the growing demands for subsea electrification," said Mark Peterson, Oceaneering's vice president of corporate development.