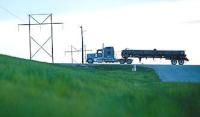 GE and Statoil's Sustainability Collaboration announced the five winners of its inaugural Open Innovation Challenge that focused on addressing the use of sand in unconventional operations.
The proppant is mixed with water and injected into a formation to "stimulate" or "prop open" the tiny fractures, enabling oil and natural gas to flow freely.
Well stimulation requires hundreds of truck trips to transport materials, which increases road wear and traffic as well as noise, dust and emissions.
By focusing on sand, the crowdsourcing Challenge looked for solutions that have the potential to reduce the environmental impacts on local communities, lessen emissions and make energy production more efficient.
"Proppant and water are the most trucked materials in hydraulic fracturing," said Lars Høier, Senior Vice President, Research, Development & Innovation, Statoil ASA.