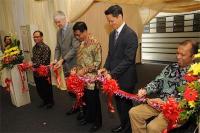 Indonesia Vice Minister of Energy and Mineral Resources H.E. Susilo Siswoutomo officiated the grand opening of GE's newly expanded Batam Island subsea manufacturing facility.
The facility features a new high bay workshop that will enable GE to begin manufacturing its first vertical subsea production trees in the Asia-Pacific region and increase local content in Indonesia. In the future, this facility will have capabilities to produce both vertical and horizontal subsea production trees. The expansion has created nearly 30 new jobs at the facility and is expected to add another 50 to 70 new jobs over the next three years.
GE Oil & Gas has invested more than USD$15 million in Batam since 2011 for plant expansion, technology upgrades and the new high bay workshop. This latest expansion is GE's largest investment to date at the Batam manufacturing site.
"Increasing our country's oil and gas production and transportation infrastructure is a top priority for supporting Indonesia's economic growth," said Vice Minister of Energy and Mineral Resources of the Republic of Indonesia Susilo Siswoutomo. "The expansion of GE's subsea equipment facility will be a significant contribution for expanding our country's manufacturing base, creating employment and developing human resources in the oil and gas industry."