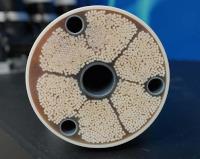 GE has announced a new water treatment technology for the offshore oil and gas industry. GE's new ZeeWeed* 700B horizontal-designed, inside-out ultrafiltration (UF) membrane offers seawater pre-treatment for injection and solids removal in offshore oil and gas applications.
Using SevenBore* fibre technology, ZeeWeed 700B are blended polyethersulphone (PES) membranes, which allow the membrane to stay permanently hydrophilic and reduce the fouling tendency. When compared to granular filter media and cartridge filters, the ZeeWeed 700B membrane produces superior water quality and is virtually unaffected by variable raw water quality. It extends the life of a sulphate removal unit by providing an improved pre-treatment technology, decreased life cycle costs and reduced weight as well as footprint. In cases where GE ZeeWeed 700B UF membranes are used purely for solids removal, it also offers superior reservoir protection.
The GE ZeeWeed 700B membrane uses multibore fibres, which are stronger than single bore fibres and minimises maintenance and repairs. It does not require air scouring and eliminates the need for blowers. GE's UF technology is energy efficient, operating at a lower transmembrane pressure with lower energy requirements.
"The offshore oil and gas industry has strict requirements for materials of construction, space and weight, and GE's ultrafiltration skids equipped with the new ZeeWeed 700B UF membrane meet these demanding specifications," says Kevin Cassidy, global leader, engineered systems—water and process technologies for GE Power. "On offshore facilities, there is limited opportunity for downtime. Using SevenBore multibore technology minimises the need for maintenance and repair, making GE's ZeeWeed 700B ideal for offshore water treatment."
GE's ZeeWeed technology is an advanced filtration technology that separates particles, bacteria and viruses from water or wastewater. Nearly 1,000 plants worldwide use this technology to produce superior quality water. Its unique ability to handle large volumes of water in a small footprint, combined with the highly efficient process with low energy and low chemical usage, makes it ideal for treating raw water sources like seawater and producing high quality process water for the oil and gas industry.
* Trademark of General Electric Company; may be registered in one or more countries.