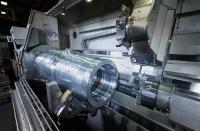 GE Oil & Gas has been awarded a multi-million dollar Frame Agreement by Oil and Natural Gas Corporation Limited (ONGC), India's largest exploration and production company. Under the agreement, GE will provide an estimated 55 subsea wellheads (SG5) over next three years for the operator's offshore drilling campaign, in shallow to medium waters offshore India.
The two companies have a heritage that spans many decades, with GE Oil & Gas (formerly VetcoGray – GE acquired VetcoGray in 2006) providing ONGC with subsea production equipment for more than 30 years, including large-sized conductors, subsea wellheads and subsea trees for its offshore drilling and completion projects. Since ONGC's foray into deep water a decade ago, GE has been a major supplier of subsea wellheads, including those used to drill two of the deepest wells in the world to date (3,174 m and 3,165 m). The two companies have long been expanding the technical frontiers in Indian waters.
Ashish Bhandari, CEO-South Asia at GE Oil & Gas, says, "With India's new energy policy and gas pricing policy in place we are seeing an uptick in ONGC's exploration and development activity. This latest award will enable GE to support ONGC as its technical partner, collaborating to improve the region's energy supply capabilities through the discovery of new fields offshore."
The first wellhead under the contract will be supplied in Q4 2016, with GE manufacturing part of the scope in India for the first time, in Kakinada, with engineering and project management support from regional teams in Singapore. While this is a key step towards local manufacturing, GE also has a multi-modal facility in Pune, created to support India's vision of self-sufficiency in manufacturing under the country's 'Make in India' plan.
Mr Bhandari says, "We have a long history with ONGC and are proud to be partnering with them to support their ambition of driving local oil and gas production. As well as the collaborative effort that will be involved, what is particularly exciting for us is that this Frame Agreement provides us with the opportunity to further develop a local talent pipeline and in-country supply base, through a steady and predictable volume."
This deal follows a contract awarded to GE Oil & Gas last year, for the supply of subsea production systems to ONGC's Vashishta (VA) and S-1 fields, located off India's Amalapuram coast in the KG Basin, ONGC's first foray into deep water development in India.