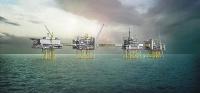 GE Oil & Gas has been awarded a significant Surface Wellhead & Christmas Tree equipment and services contract by the Norwegian oil and gas company Statoil for its landmark Johan Sverdrup project in the North Sea.
With the new multi-year agreement, GE Oil & Gas will manufacture, deliver and install its cutting-edge Standardized Surface Wellhead and Christmas Tree Systems at multiple wells that make up part of the field. Located 155 kilometres west of Stavanger, Norway, Johan Sverdrup is one of the five biggest oil fields on the Norwegian continental shelf, with expected resources of between 1.7 and 3 billion barrels of oil equivalent.
The agreement, which will service and support the project over the life of the field, further strengthens GE's position as a leading technology and equipment company to the region's oil and gas industry. The Christmas Tree System that GE Oil & Gas will provide incorporates a special valve that increases the longevity of maintenance intervals, resulting in reduced downtime for the operator. This will drive higher productivity and lower operational expenditure.
GE's technology reduces the need for maintenance during the operations phase beyond the standard practices, meaning any work can be carefully planned and performed, providing further operational savings as well as making the wells more productive.
In addition to supplying this high-quality equipment, Statoil can also take advantage of GE Oil & Gas' innovative digital capabilities. The two companies already collaborate together on several technology projects but this deal opens opportunities for Statoil to utilise the full range of digital solutions that GE offers in order to drive higher productivity and create "smarter" wells.
Michele Stangarone, President & CEO, Europe, GE Oil & Gas, says, "This multi-year agreement represents another step between Statoil and GE Oil & Gas, who have a long history of partnering successfully together on a wide range of projects. The Johan Sverdrup field is one of the largest and most important fields in the world today and this deal will bring GE Oil & Gas' leading equipment to the project to help ensure optimised and productive efficiency. Our cutting-edge equipment will enable Statoil to optimise the lifecycles of its wells, helping the company avoid unexpected shut downs and produce in greater volumes for longer periods of time."