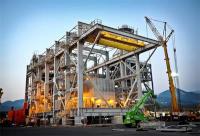 Demonstrating GE's growing monitoring capabilities for the artificial lift sector, GE Oil & Gas' Zenith HT™ high temperature well monitoring technology has surpassed 1,000 operating days. The milestone reflects the technology's leadership in downhole gauge reliability by being able to survive hostile conditions for longer periods and at higher temperatures than alternative tools.
Compared to traditional electronic gauges that offer reasonable lifespans at well temperatures limited to 175°C (347°F), GE's Zenith HT downhole gauge is proving to reliably and continuously deliver accurate downhole data at temperatures up to 260°C (500°F). This enables operators to maintain optimized production and protect pumping equipment despite the challenging environment of hot reservoirs or excessive temperatures generated by pump systems during operation.
Demonstrating their reliability, GE's Zenith HT gauges were installed in "huff and puff" enhanced oil recovery (EOR) wells in August 2010 and have been operating consistently for well over 1,000 days at temperatures up to 240°C (464°F). Additional HT gauges installed throughout 2012 in various well environments, including electric submersible pump (ESP) steam flood operations (recorded up to 216°C, or 421°F), rod pump and observation wells (40-228°C, or 104-442°F), continue to demonstrate industry-leading reliability.