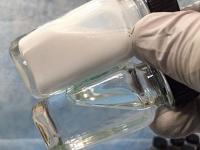 GE has announced an upgrade to its ProSolv* WI8581 Wax Inhibitor for onshore and offshore oil and gas production. Wax inhibitors help oil and gas producers ensure an uninterrupted flow of crude oil. GE's upgraded product is highly concentrated and winterised, which makes it extremely efficient and cost-effective.
GE's ProSolv WI8581 Wax Inhibitor is highly effective in reducing the pour point of waxy crude, which reduces wax deposits and helps diminish the need for heat-insulated lines and pigging. It is winterised to less than minus 40 degrees in both Celsius and Fahrenheit so that it can be applied during temperature extremes and has pumpability during harsh winter environments without any special handling or containment. The upgraded wax inhibitor is highly concentrated and reduces the chemical storage footprint and minimises logistical issues.
"Wax is a valuable component of crude oil and to improve flow assurance, wax needs to remain in solution and get to the refinery. The oil and gas industry has been challenged for years to find an effective technology to control wax while at the same time being reasonably priced. GE's ProSolv WI8581 Wax Inhibitor is highly concentrated, winterised and a non-aromatic solvent based carrier fluid," says Amy Ericson, global leader, chemical and monitoring solutions – GE Water & Process Technologies. "It will improve production and flow assurance and protect pipelines."
The upgraded wax inhibitor is a non-aromatic solvent based carrier fluid. The reduction in solvents is safer and has no volatile organic compounds. GE's ProSolv WI8581 Wax Inhibitor is a microemulsion, which allows it to be concentrated for easier handling.
First introduced in 2016, GE's ProSolv Wax Inhibitor provides a consistent flow of hydrocarbon streams from the reservoir to the point of sale. GE's chemistry for wax blockages is an economical alternative to currently available technologies. It is based on characterisation of the production fluids and environment and works in a variety of waxy crudes. It also significantly reduces the precipitation and deposition of wax at temperatures below the untreated wax appearance temperature decreasing the need for costly workovers and pigging to remove solid wax deposits.
In the oil and gas industry, deep water fields with long step outs and surface pipelines in exposed locations have been experiencing operational issues related to the deposition of wax, which increases pressure drop, reduces production rate, increases pumping costs and results in downtime for pigging and cleaning operations. Currently available technologies for wax inhibition include hot oil, direct electrical heating and pipe-in-pipe dry insulation all of which add to the complexity and cost of the subsea system. However, GE's ProSolv wax inhibitor is a cost-effective alternative that reduces capital and installation costs and improves return on investment.