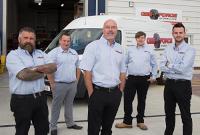 Great Yarmouth based Gee-Force Hydraulics can now supply the offshore wind industry with a unique bolting system that works up to 200% faster than other systems, offering huge potential for cost-cutting.
Gee-Force is stocking the latest SPX's Infinite Stage Pump technology that can cut construction time of an average-sized wind farm by days, bringing substantial savings in personnel, crane and access hire.
Managing director Graeme Cook says the power pack developed by SPX Flow was the perfect response to demands to take costs out of the industry: "Because of the restricted timescales for offshore wind turbine installation, greater bolting speed coupled with equipment reliability bring about significant cost benefits compared to standard systems. However, traditional design wrenches don't have the capacity to accommodate the increased oil flows, hence SPX re-designing the internal components of its wrenches to work at these much faster speeds."
The pump, used with a high cycle hydraulic torque wrench, increases productivity by providing continuous flow for up to twice the speed of typical 2-stage hydraulic torque pumps.
"The East of England is a hub for initial construction and installation of offshore wind turbines and their subsequent maintenance. Speed, reliability and accuracy is the key for the installation phase and that is what the new system offers. Thereafter, the maintenance is often more to do with fleetness of foot; how quickly you can get the tooling to the turbine and how quick and easy it is to deploy. In this latter respect, Gee-Force is also offering SPX's compact bolting and tensioning pumps, both being lightweight and small in size, designed to fit through the smallest access gaps inside the turbine."