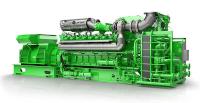 The majority of world's largest refineries are situated in the Asia Pacific region. With 4 million barrels of oil produced per day by the top five refineries in the region, Asia's growing importance as both an energy source and destination market is clear.
Located in Johor, the development of PETRONAS' Pengerang Integrated Complex (PIC) will soon give a boost to the region's energy output. Upon completion, PIC's refinery will be able to produce 300,000 barrels of oil per day, while the petrochemical plants will produce 7.7 million metric tons of various chemical products per year.
Through a strategic partnership with Prime Sourcing International (PSI), a subsidiary of Petroliam Nasional Berhad group, GE will supply 17 Emergency Diesel Generator (EDG) packages, five transportable switch rooms and the electrical balance of plant. The equipment will be provided by various GE businesses, showcasing the strength of the GE Store. Each EDG package will consist of 616 diesel engines provided by GE's Distributed Power business, which will be coupled with the generators and electrical equipment bounded in e-houses.
The 616 diesel engines play a critical role in enabling uninterrupted operation to ensure high productivity. These generators will be switched on to provide continuous power if the complex experiences an unexpected power shutdown. Integrated into one single package by GE's Power Conversion business, GE's 616 diesel generator set addresses the most critical application challenges with advanced reciprocating engine technology. It combines and enhances the proven technology of the Jenbacher J616 gas engine with the P616 locomotive diesel engine from GE Transportation—bringing together the best of both worlds to increase efficiency and productivity. The integrated package has a more compact design. While the low component count means less installation cost and higher system reliability, the modular design also brings flexibility to the plant layout, thus helping optimise plant design.
"This is an important project for us and for our customer. It not only marks the largest 616 diesel order in Malaysia for GE, but it also is the first in the country," says Heiner Markhoff, president and CEO, Water and Distributed Power for GE Power. "By leveraging the broad capabilities of the GE Store, we are able to provide a unique competitive advantage by using our proven technology across industries to provide our customers with the best possible solution to meet their needs."
"Engaging and leveraging different strengths from across GE businesses through the GE Store, we are able to offer core technologies to the marketplace faster and increase value for our customers," says Francesco Falco, global sales leader, GE's Power Conversion business, "Today, the industry is an exciting place to be. Emerging technologies and newly built energy infrastructure are changing the way we live. We are proud to be a part of this journey, helping re-shape the world's energy landscape."