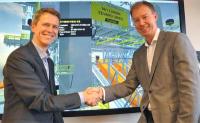 GexCon AS has announced the acquisition of Stormfjord. The move will see GexCon, known globally for its FLACS safety and risk management software, taking on the products and services of a company that has rapidly established itself as a leading player in the field of 3D industrial visualisation and simulation.
Stormfjord, founded in 2007, is renowned for its work in transforming complex industrial data into accessible, user-friendly 3D software solutions for use in simulation, planning, training, overview, control and monitoring applications.
Projects of note that have utilised Stormfjord's software include the early phases of Statoil's Aasta Hansteen and Lundin's Edvard Grieg platforms in the North Sea. You can see Stormfjord's ScopeXP familiarisation solution, as used on the Lundin assignment, here.