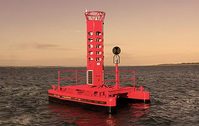 Gill Instruments' extensive portfolio of meteorological instruments are now fully compatible with the innovative RockFLEET tracking and M2M/IoT system, from UK-based Iridium satcom specialist, Rock Seven. RockFLEET introduces new satcom Machine-to-Machine (M2M) data capabilities that complement the existing GSM/GPRS already used by Gill customers, effectively extending coverage to the whole planet, even the North and South poles.
Gill's ultrasonic anemometers for wind speed and direction measurement, along with various wind accessories are used in a variety of applications, but the RockFLEET link-up is expected to provide benefits to maritime users, especially buoy owners. Gill meteorological sensors, from the WindSonic anemometers to the versatile, compact MaxiMet weather station or configurable MetPak system all provide a human readable ASCII output that can now be read and transmitted by RockFLEET.
RockFLEET allows users to take the flexibility of Gill's meteorological solutions and receive complete weather station data from remote locations covering wind speed/direction, temperature, relative humidity, pressure, rainfall, solar radiation and more. RockFLEET, which uses the global Iridium Short Burst Data (SBD) service for highly reliable, low-cost connectivity, ensures that regardless of the availability of GSM/GPRS coverage, data is available at the user's desk PC, mobile phone or tablet via any Internet browser.
In addition to delivering all instrument data at user defined intervals over an M2M link, RockFLEET also transmits accurate GPS location reports, ensuring users can track the whereabouts of their assets closely. This is particularly useful for weather and instrument stations installed on buoys or other equipment that may move off-station either accidentally or by design.
All data transmitted by RockFLEET via the Iridium satellite network is initially received by Rock Seven servers and then distributed securely to users. Data from the service is delivered via HTTP POST, making it easy to store in user's own databases for analysis and processing. For GPS location data, Rock Seven provides an online mapping system, called 'Core' which comes free with RockFLEET. RockFLEET itself can be remotely managed from the Core system allowing users to turn the satellite service on/off for months at a time, saving transmission costs when sensors are not in use.
"While existing GSM/GPRS communication networks provide good coverage for land based applications the integration of our products with RockFLEET provides truly global coverage. This integration ensures that users can now receive data about current weather from even the most remote locations on the planet. Rock7 has extensive experience of designing reliable, high availability link systems, and the combination of the RockFLEET product and Gill Instruments' sensors provides customers with a solution they can trust," says Adam Jolliffe, Applications Specialist, Gill Instruments.
"RockFLEET is already in operation on buoys and we are pleased to extend its applications with integration to Gill's line of instruments and weather stations. Adding tracking and M2M satcom capabilities to buoys and floats is a simple process with RockFLEET, as demonstrated through development of the Calshot Spit Light Float weather station, which is now delivering accurate real-time data from among others, a Gill MaxiMet GMX600 24/7," says Nick Farrell, Director, Rock Seven.