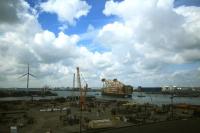 With the sail away on Friday 19 June 2015 Gina Krog, the largest launch jacket ever built by Vlissingen yard of Heerema Fabrication Group (HFG), is ready for installation. The over 17,000 tons jacket for client Statoil & Partners started its journey for final destination, the Gina Krog field on the Norwegian Continental Shelf.
After a successful FEED study of HFG's in-house engineering, Heerema Vlissingen was awarded the engineering, procurement and construction contract of the Gina Krog launch jacket and pre-drilling wellhead module in February 2013. Throughout the various FEED phases, incorporating the design development of the topside, HFG developed a mature launch jacket concept providing a firm basis for the EPC contract.
Within 17 months after construction the record breaking launch jacket was skidded onto the barge late March 2015 and has now set sail for installation at the Gina Krog field in the central part of the North Sea. The Gina Krog launch jacket weighs over 17,000 tons, has a footprint of 60x50 meters and at the top 40x30 meters. The height of the jacket is 142 meters. The pre-drilling wellhead module, which sails out after jacket installation, makes it possible to drill wells before the topside is in place and weighs 265 tons.