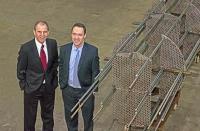 INTERNATIONAL oilfield specialist Glacier Energy Services has appointed renowned energy sector leader Mike Straughen as a non-executive director, as it gears up for further significant growth.
Mr Straughen will support Glacier's board as the group looks to boost its combined turnover, of more than £15million, and global staff of 130 people through new business and further acquisition activity.
Mr Straughen has been an Executive Director of Wood Group since 2007, and is currently Chief Executive of Wood Group's Engineering Division, with additional responsibility for the group's safety and environmental activities.