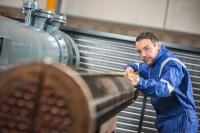 GLACIER Energy Services has appointed industry-leading engineer Alastair Gibbons to the senior operations team of its non-destructive testing (NDT) business, Professional Testing Services, boosting the firm's leadership as it expands its use of advanced techniques.
Mr Gibbons, who has 25 years' experience in the field, has joined from one of the largest multi-industry providers of testing services and will lead Glacier's NDT delivery across the oil and gas industry on and offshore.
Professional Testing Services has the largest pool of qualified NDT inspectors in Europe, with extensive experience of operations on energy infrastructure in the UK, Scandinavia and continental Europe, as well as the Far East.