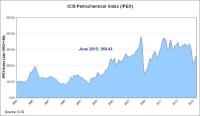 The Global ICIS Petrochemical Index edged higher in June reflecting still higher plastics prices in Europe offset by falling prices for some other major chemical commodities in other regions.2% and the global IPEX up 17.7%.
The IPEX reflects price movements for 12 building block petrochemicals and major polymers weighted by production capacity on a regional and a global basis.
Plastics prices in Europe have risen significantly since the end of February forced higher by operating problems among major upstream feedstock supply units and lack of availability. The second quarter IPEX for Europe was up 23.6% from Q1. The Asia IPEX up 23.
The European IPEX was up 3.0% for June from May 2015. The global index showed a much more modest gain in June of 0.5% with the Asia regional index flat and the US regional index down 1.1%. All indexes are still lower than a year ago, reflecting the impact on petrochemicals and polymers of lower-priced crude. On a quarterly basis the second quarter global IPEX was down 21.3% from a year ago.
Different feedstock cost and market supply dynamics were seen in Europe, Asia and the US in June. Steam cracker outages crimped the supply of the feedstocks, ethylene, propylene and butadiene to the important downstream polymer and synthetic rubber markets in Europe. Olefins monthly contract prices were higher, polyethylene (PE) and polypropylene (PP) prices rose significantly.
The benzene monthly contract price in Europe, by comparison, was down sharply, driven by global length and limited downstream offtake.
Petrochemical prices in Asia in June were influenced by planned cracker maintenance and reduced ethylene and butadiene supply. Meanwhile on-purpose production helped keep propylene relatively long and prices fell.