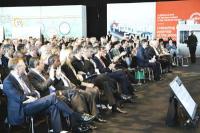 Present and long-term challenges for the global maritime industry and corresponding solutions are on the agenda when ministers, top executives and experts meet in Copenhagen for the Danish Maritime Forum on 7-8 October 2015.
With some 90% of world trade transported by sea the maritime industry is a major enabler of globalisation and international trade. As a consequence, the industry's response to the changing world economy is important to the future of growth and development all around the world, not least in emerging economies.
The discussions at this year's Danish Maritime Forum – known as the maritime equivalent to the World Economic Forum in Davos - are influenced by volatility in global markets and uncertainties about future growth and will focus on how the maritime industry can address these challenges in both the short and long term.