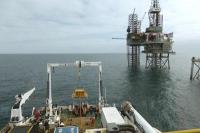 UK-based Global Marine Systems Limited has landed a pair of high-profile contracts from Tampnet, who operates the largest offshore high-capacity communication network in the world in the North Sea and the Gulf of Mexico. Both contracts are designed to further enhance high-capacity communications networks in the North Sea and entail highly skilled route survey, cable installation and protection services.
The first project, which is the fourth contract from Tampnet in a series of critical North Sea installations, is for a platform to platform cable system that includes four branching units. It will incorporate 74.157 km of fibre optic cable, with the cable for the second platform being laid to allow for platform connection at a later date. One of the company's key installation vessels, Innovator, has been contracted to complete the work following the successful installation of a prior Tampnet project in 2014.
Initially, mattress deployment work was undertaken across various oil and gas pipelines, as well as umbilicals. This was prior to Innovator laying fibre optic cable in the centreline of a channelled mattress on the seabed nearly 120m below the surface. The mattress design has been developed specifically for this project utilising concrete mattresses and combining this with recycled rubber providing greater support to the cable over the pipeline crossings and ensuring the cable is retrievable for future maintenance operations, should this be required. This inventive solution requires the extensive capability of Innovator and the Mohawk submersible ROV.