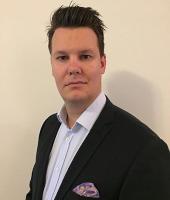 Global Maritime Consultancy & Engineering, provider of marine warranty, dynamic positioning and engineering services to the offshore sector, has appointed Stavanger local Espen Thomassen as Regional Manager for the Americas. Espen has been tasked with growing Global Maritime's business throughout the region, which – in addition to Houston – includes offices in Brazil and Canada.
Espen will also lead Global Maritime's involvement in providing Sub Chapter M compliance services to inland waterways towing vessels throughout the US. Sub Chapter M represents new US Coast Guard (USCG) standards on the inspection, standards and safety policies of towing vessels.
David Sutton, CEO of Global Maritime Consultancy & Engineering, says, "Espen's previous experience demonstrates a strong combination of both technical knowledge and commercial acumen and will stand him in good stead for this challenging role. We are delighted to have him on board."
Espen Thomassen continues, "I see enormous potential for growth in the Americas. The services and expertise we provide in dynamic positioning, marine warranty, mission critical systems and now Sub Chapter M will prove crucial to our Americas customers and prospects as they look for that extra competitive edge."
Thomassen joined Global Maritime in 2012 in their Stavanger office as the company's youngest-ever marine advisor at only 23 years of age. With a technical background in electrical engineering and starting in the DP side of the business, the last few years has seen Espen take on an increasingly commercial and sales-focused role with his last position as Business Development Manager for Norway.