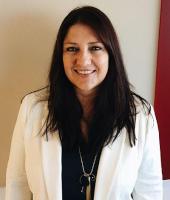 Norway-based Global Maritime Consultancy & Engineering, a provider of marine warranty, dynamic positioning and engineering services to the offshore sector, has appointed Anna Keen as Regional Manager for the Asia Pacific region. Keen, who previously held a management role at Global Maritime Mooring Group, will be responsible for bringing increased cohesion to Global Maritime's Asia Pacific operations and driving new business in the region. She will report to Global Maritime Consultancy & Engineering CEO, David Sutton.
David Sutton comments, "We are delighted to welcome Anna to her new role. Her passion, integrity, business experience and focus on developing closer relationships with colleagues, clients, suppliers and the wider stakeholder community will be crucial in her new role as we seek to strengthen our business operations and increase our client base in Asia Pacific."
Keen has worked in the oil & gas and marine consultancy business for the past 13 years. Previous roles include HR Manager, APAC for Viking SeaTech and finance and project administration roles at Programmed International and Frontier Drilling USA. She has a degree in International Business & Chinese Studies from Murdoch University in Perth, Australia.