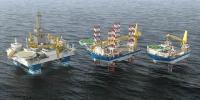 Global Maritime Group continues to strengthen relations with Baoham Offshore (HK) Ltd. The building of the first jack-up liftboat based on Global Maritime design is well underway.
Further, two more newbuilds have now been initiated; another jack-up and a semisubmersible drilling rig. Both new units also based on Global Maritime Group designs and classed by ABS Global Maritime Group is a worldwide company with head office in Stavanger, Norway. The Group has six business areas with Global Maritime Consulting & Engineering in London and Stavanger executing the Baoham Offshore contracts.
"These projects remind us that there are companies willing to invest for the future, and Global Maritime Group is proud to provide its innovative designs", says CEO of Global Maritime Group, Peder Sortland.
Baoham Offshore is set to become the first privately owned offshore vessel owner in China with Global Maritime Group as design partner. Baoham Offshore plans to expand its fleet of offshore units further and become a key player in the expanding offshore region in Southeast Asia. The company has a first jack-up under construction at the Paxocean shipyard in Zhoushan, China. Global Maritime Group is well underway with designing the second unit based on its GM-J1450 design.