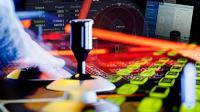 Global Maritime Consultancy & Engineering has introduced a new set of policies and procedures to support its Dynamic Positioning (DP) activities. The new procedures will ensure continued excellence and consistency across all Global Maritime's global DP operations.
The document will cover general working practices and core competencies as well as working procedures relating to DP Systems Audits & Verifications; Failure Mode and Effect Analysis (FMEA), attendance at DP trials, and the development of other DP documentation.
David Sutton, CEO of Global Maritime Consultancy & Engineering, says, "As an industry leader in dynamic positioning, this new initiative is all about putting in place global services and global solutions for a global company. Whether you are buying a product in Norway, the US, the Middle East or Asia Pacific, you can be assured that you are tapping into our unrivalled excellence and years of experience in DP and consistent products and solutions across the board."
His words are supported by Mat Bateman, DP & Mission Critical Systems Manager in the Americas region: "We want to facilitate the productive operation of vessels rather than auditing to stop assets working. We also want to ensure that our DP services are defined by operational excellence, innovation and consistency. Our new policies document will ensure that this goal is met."
DP services, where procedures and processes have been enhanced, include:
DP Systems Audits & Verifications. Global Maritime offers DP systems audits of varying levels and scope, as well as risk analysis and assessments. These include DP trials and competence assessments, DP capability plots, the calculation of Environmental Regularity Numbers (ERN), Thruster Reliability Studies and Common Marine Inspection Documents (CMID), and Offshore Vessel Inspection Database (OVID) audits.
Failure Mode and Effect Analysis (FMEA). Global Maritime provides a wide array of Failure Mode and Effect Analysis (FMEA) and Failure Mode Effect and Critically Analysis (FMECA) studies that cover all scenarios.
Documentation Development. Global Maritime provides the latest in DP-related documentation to ensure standard practices and consistency across all operations. The new processes will cover Operations Manuals, Activity Specific Operating Guidelines (ASOG), Critical Activity Mode of Operations (CAM) and more.
DP Competence and Assessments. Global Maritime has developed in-house competence and assessment programs that are internet-based and can be used for a variety of DP operations and modes. Highly tailored programs can also be developed based on client requirements.