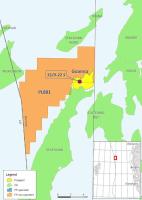 Faroe Petroleum, the independent oil and gas company focusing principally on exploration, appraisal and production opportunities in Norway, the UK and Atlantic Margin, has announced the commencement of the Goanna exploration well 39/9-22 S (Faroe 30%) in licence PL 881.
The Goanna licence is located in the northern part of the Norwegian North Sea, near the border with the UK and adjacent to the giant producing Statfjord and Snorre fields, which offer the potential for alternative export routes. The Goanna prospect straddles the border between PL 881 and PL 037, and the well will target a structural and stratigraphic prospect of Upper Jurassic Munin Formation sandstones. Faroe's associated costs of drilling this well will be fully carried by its joint venture partner up to the budgeted dry hole cost.
Licence PL881 (Faroe 30%) was awarded in February 2017 as part of the APA16 licence round and is operated by Wellesley Petroleum (70%). The semi-submersible drilling rig, Deepsea Bergen, will be used for the drilling operations. Results will be announced when operations have been completed.
Graham Stewart, Chief Executive of Faroe Petroleum comments, "We are pleased to announce the spudding of this near field exploration well in the very prolific Tampen area and surrounded by giant oil fields. Goanna represents a target in a very exciting new area for Faroe and the Company's dry hole costs in the well are fully covered."
"Our rolling exploration programme continues with the Iris/Hades (Aerosmith) exploration well and Fogelberg appraisal well scheduled for the end of the year and the beginning of 2018, taking advantage of low drilling costs and Norwegian tax incentives," adds Stewart.