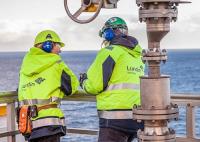 Lundin Petroleum AB has announced that its wholly owned subsidiary Lundin Norway AS has completed the Gohta appraisal well 7120/1-5 located in PL492 in the southern Barents Sea.
The Gohta discovery, made in Permian carbonate reservoir rocks in well 7120/1-3 in 2013, was estimated to contain gross contingent resources of between 91 and 184 million barrels of oil equivalents (MMboe) prior to the drilling of well 7120/1-5.
The appraisal well was located some 4 km north of the original discovery well and was the second appraisal well on the Gohta discovery. The main objective of the well was to delineate the northeastern segment of the discovery. The well encountered a 300 metres gross sequence of Permian age carbonates with poor reservoir quality. Hydrocarbon shows were observed but no pressure gradients could be established. The well will be permanently plugged and abandoned. Extensive data acquisition and conventional coring was carried out in the reservoir.
The resource estimate for the discovery will be reduced as a consequence of this well. An updated gross contingent resource estimate will be provided at year end taking into account all the new data.
This fourth well in the 2016/2017 drilling campaign on the Loppa High was drilled to a total depth of 2,502 metres below mean sea level and in a water depth of 344 metres.
Gohta is considered a satellite opportunity to the larger adjacent Alta discovery and this result has no impact on Lundin Norway's appraisal and conceptual development plans for Alta, which includes an appraisal well which will be spudded imminently and an extended well test planned for 2018.
Lundin Norway is the operator of PL492 and holds a 40 percent working interest in the licence. Aker BP is partner with a 60 percent working interest.
The well was drilled using the semi-submersible drilling rig Leiv Eiriksson. Once the rig has plugged and abandoned the 7120/1-5 well, it will move some 15 km to the northeast to spud the Alta appraisal well 7220/11-4 in PL609 where Lundin Norway is also operator.