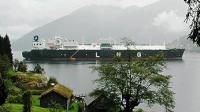 Golar LNG has signed a Memorandum of Understanding with Schlumberger to co-operate on the global development of greenfield, brownfield and stranded gas reserves.
Under the Memorandum, Golar and Schlumberger have agreed to jointly market gas monetization solutions to owners, investors and governments. Golar will contribute the Floating LNG assets and technology while Schlumberger, via its special project management division, will provide upstream development knowledge, resources and capital.
The intention of this integrated offer is to gain access to a wide range of uneconomic gas reserves by delivering low-cost LNG production solutions.