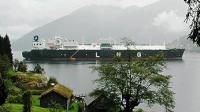 Golar LNG Ltd has completed the sale and delivery of the 2005 built LNGC Golar Viking to PT Perusahaan Pelayaran Equinox. The transaction has been concluded at a sale price of US$ 135 million. The vessel has been re-named 'Salju' under Indonesian flag and Registry.
Under Indonesian Cabotage regulations, LNG cargoes produced and sold within Indonesia must be transported on an Indonesian flagged vessel. With an anticipated increase in domestic allocation for Indonesian produced LNG cargoes in 2015, Equinox believe the timing is right to acquire the Golar Viking and transfer the vessel to Indonesian flag.
The growth in the Indonesian domestic trade of LNG is the direct result of the recent introduction of 3 new LNG Terminals which are supplied from LNG production facilities at Bontang and Tangguh. The receiving Terminals are the FSRU Nusantara Regas Satu (commenced operations in Q2 2012) located in West Java, PGN FSRU (Q3 2014) located in Lampung and the Arun Receiving Terminal in Aceh Province, scheduled to commence operations in the first quarter of 2015.