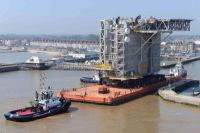 The Golden Eagle Living Quarters [LQ] module designed and built by Sembmarine SLP in Lowestoft at its Hamilton Dock, successfully sailed away on Monday 19th May, passing through the port pier heads at 12:05 BST.
The 2000 tonne module, which will provide living accommodation for 140 people, had been loaded onto sea-going barges earlier this month, as had the 550 tonne, 70 metre long bridge and a 220 tonne flare boom for the same project.
On Sunday 18th May, the Bridge & Flare modules set sail, also destined for the Nexen Petroleum operated Golden Eagle Field, where a Heavy Lift Vessel will position the modules onto the main deck structure, which is shortly due to be installed onto the Jacket. The Golden Eagle Field is located some 130 miles offshore north east of Aberdeen.