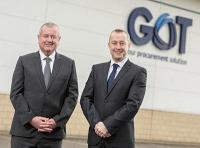 Aberdeen-based GOT Procurement Services Ltd (GOT), an energy sector procurement specialist, has appointed Bill Hogarty as business development director.
The appointment reflects GOT's commitment to further its recent success in amidst the energy sector's downturn, with Mr Hogarty bringing over 30 years' industry sales experience to the role. Laterally group CEO at Oteac Ltd / HVAC&R Ltd, he has held a number of senior business development positions within multinational companies serving the energy industry, in particular health and safety service providers. Hogarty joins GOT at a time when the business is attracting new clients and entering the expanding renewable energy sector.
Bill Hogarty's appointment is a key strategic move for GOT, as managing director Warren Anderson explains: "We are delighted to welcome Bill to the GOT team. His vast amount of relevant experience will allow us to continue to provide an optimum service to our existing clients. As we enter new markets we have the confidence and the clarity to showcase how our products and approach can add real value to the supply chain of our target industries."
Bill Hogarty's appointment comes at a time when GOT recently announced the award of six new projects, resulting in a 50% increase in turnover over the last six months.
Commenting on his appointment, Mr Hogarty states, "This is an exciting time to be joining GOT, building upon the company's heritage and focusing on our commitment to providing a reliable service our clients can depend on."