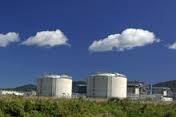 Gran Tierra Energy Inc. announced the results of a qualified independent reserve evaluation of the company's Peru reserves by GLJ Petroleum Consultants Ltd. ("GLJ") effective December 31, 2013.
"Gran Tierra Energy has successfully booked significant reserves at the Bretaña field in Peru. On a proved plus probable ("2P") and proved plus probable plus possible ("3P") basis, the Bretaña field reserves nearly double the total corporate 2P and 3P reserves booked at year-end 2012. We are currently planning on initiating long-term test production from this field beginning in September 2014, with an appraisal well planned to be drilled in the fourth quarter of this year in the southern portion of the Bretaña field," said Dana Coffield, President and Chief Executive Officer of Gran Tierra Energy.
"Furthermore, additional unbooked resource potential has been identified in an extension of the Bretaña structure on recently acquired and interpreted 2D seismic. This discovery is a dramatic reserve addition for Gran Tierra Energy, building on our substantial historical success in Colombia, and is expected to provide significant growth for Gran Tierra Energy and assist Perupetro in achieving its objective to bring new oil to the market on behalf of the Government of Peru in the coming decade," concluded Coffield.