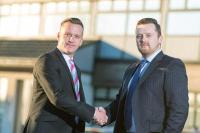 Aberdeen-based Granite Energy Resources has appointed a new director as it embarks on another year of targeted growth.
Granite Energy Resources has welcomed Ian Melville to its senior management team; who brings a wealth of experience to the company having previously served in various UK and international roles within the energy recruitment industry.
With broad exposure to all facets of the E&P cycle and specific expertise within geoscience and subsurface, the 30-year-old will take on operational and strategic responsibility for driving growth within the business in the months ahead.
Ian Melville said: "I'm delighted to be joining what is a highly ambitious and fast growing company and looking forward to playing a part in our expansion plans over the months & years ahead.