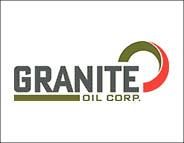 Granite Oil Corp. is pleased to announce results from its latest, 100% working interest, horizontal Bakken oil well 102/01-24-003-17W4/00. The well was drilled in the core of the area under the Company's gas injection enhanced oil recovery (EOR) scheme.
The well produced an average of approximately 1,200 Bbl/d of 31° API oil and 600 mscf/d of solution gas over the course of a four day production test and was flowing at approximately 1,150 Bbl/d of 31° API oil and 800 mscf/d of solution gas at a flowing wellhead pressure of 420 psi, while restricted with a five-eighth (5/8) inch choke, at the conclusion of the test.
The well has a total lateral length of 1,250 metres and was completed with 15, eight ton fracs using nitrified water, at an all-in cost of $2.1 million dollars. The total well cost is 25% lower than the original $2.8 million included in the Company's initial guidance for 2015. Granite anticipates that its well costs will continue to decrease over the remainder of the year.