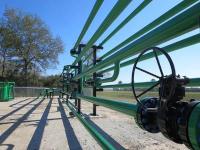 Greene's Energy Group, LLC (GEG), a provider of integrated testing, rentals and specialty services, has opened its pipeline training and test loop operations at its Houston Pipeline Services facility, said Tom Sawyer, GEG's vice president.
The facility is located at 2705 Frick Road, Houston, TX 77038, and is available for third party operator training, equipment and procedure testing, industry research and development projects. Classroom facilities are also available for use in conjunction with the test loop.
The test loop includes 1,100' (335 m) of 6" (152 mm) standard wall piping and 1345 psi (100 bar) working pressure with 2017 psi (138 bar) test pressure. Other highlights include 3D bend radius, 120' (37 m) underground, two replaceable 10' (3 m) spools for deflect detection, vertical/horizontal launch/receive capabilities and various features for equipment and instrumentation hookup.