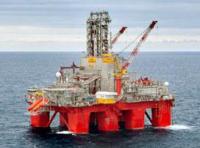 In the morning of 27 May Greenpeace activists boarded the drilling rig Transocean Spitsbergen. The rig was en route to the Hoop area in the Barents Sea.
On Monday Statoil got approval from the Norwegian Ministry of Climate and Environment to start drilling operations tied to the Apollo prospect in the Hoop area. The company is not allowed to drill into oil-bearing layers until the complaint from Greenpeace has been dealt with by the ministry.
Statoil respects the right for legal protests and believes it is important with a democratic debate on the oil and industry. Statoil has had a dialogue with Greenpeace over the last few months. We have informed about our exploration plans in the Barents Sea and the emergency response setup for the operations on several occasions, and Greenpeace has been given the opportunity to explain their views and ask questions.